Welcome

The Georgia Watermelon Association (GWA) is the trade organization from watermelon growers, shippers and allied industry members in Georgia and throughout the southeast. GWA's mission is to promote the best interest of the industry from production to consumption. The association is constantly seeking improvements in the growing, grading, handling, transportation, distribution, and sale of watermelons. GWA works to increase efficiency within the industry for better profits and to provide the consumer with a better product for greater sales.
The GWA was incorporated in May 1968, under the name of the Georgia Watermelon Growers and Distributors Association. In 1977 the name was changed to the present form to better reflect the scope of the membership. The GWA is a chapter of the National Watermelon Association which is made up of 10 state chapters, with membership in 29 states and Canada.
Upcoming Events
←
June 2021
→
S
M
T
W
T
F
S
1
2
3
4
5
6
7
8
9
10
11
12
13
14
15
16
17
18
19
20
21
22
23
24

June 24, 2021




12:00-1:00PM

25
26
27
28
29
30
June 24, 2021
12:00-1:00PM
Tune in to WXIA TV on June 24, 2021 to meet the 2021 GWA Queen, Lindsey Westberry and learn more about the nutritional benefits and economic value of watermelon. She will also be sharing a delicious recipe with the viewers!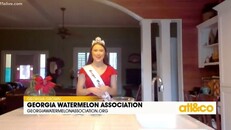 view event details >