GWA Annual Convention
January 29 – 31, 2021
King & Prince Resort St. Simons Island, Georgia



2021 GWA Annual Conference




Schedule of Events



All events, times, topics are subject to change throughout the year and planning stages of the conference.

Friday, January 29, 2021
10:00 AM
Exhibit Set Up - The Delegal Room
10:00 - 11:00 AM
GWA Board of Directors Meeting - Retreat Room
12:30 PM
Golf - King & Prince Golf Course - Register with GWA Office - Shotgun Start
12:30 PM
Charter Fishing Trip - Boat departs at 1:00 PM and will be on the water for 4 hours.
7:00 PM
President's Welcome Reception and Dinner - Atlantic Court - New Outside Venue
Saturday, January 30, 2021

7:00 AM

7:30 - 8:15 AM



8:30 - 9:15 AM

9:15 - 10:00 AM

Educational Seminar - Lanier Ballroom - Sausage Biscuits, Coffee, Juiced served.

TBA


15 Minute Break

TBA

TBA


10:30 - 11:00 AM

Georgia Watermelon Association Annual Business Meeting - Rob Greene, President, Presiding

NWPB District 2 Nomination Meeting

11:30 AM
Seed Spitting Contest - Beachside Lawn (weather permitting)
12:15 PM
Lunch Buffet - GWA Live Auction - Atlantic Court - New Outside Venue
6:00 PM
Reverse Ticket Raffle/Drawing - CASH Bar - Atlantic Court
Sunday, January 31, 2021

Safe travels home!
As an attendee of this event, all participants acknowledge the contagious nature of COVID-19 and voluntarily assume the risk that they may be exposed to or infected by COVID-19 by attending the Georgia Watermelon Conference and that such exposure or infection may result in personal injury, illness, permanent disability, and death. All attendees voluntarily agree to assume all of the foregoing risks and accept sole responsibility for any injury to myself (including, but not limited to, personal injury, disability, and death), illness, damage, loss, claim, liability, or expense, of any kind, that I may experience or incur in connection with my participation in GWA programming ("Claims"). Conference attendees hereby release, covenant not to sue, discharge, and hold harmless the Association, their employees, agents, and representatives, of and from the Claims, including all liabilities, claims, actions, damages, costs or expenses of any kind arising out of or relating thereto.
Don't miss out on EARLY BIRD rate for all events. Deadline for the discounted early bird rate is January 4, 2021! To receive the discounted member rate, you must join as a new member or renew your membership.
CLICK HERE to Register Online!


Reserve your room today at the King & Prince in St. Simons Island, GA. Special rates for conference room block are $139/night for reservations made prior to December 28, 2020. Reservations can be made online or by calling the reservation desk at 1-800-342-0212.
Book Your Reservation TODAY
Sponsor / Exhibit / Advertise
Sponsorship, advertising and exhibitor opportunities are available for the 2021 GWA Annual Convention.
Sponsorship provides a high value, cost-effective way to feature your organization. Exhibiting and advertising opportunities are also a great way to connect with attendees. Make a personal network with attendees by reserving your booth space today. With program advertising you can promote your brand in the on-site program booklet. Various sizes and placements are available to fit your desired look and price point.
Click on the buttons below to learn more about these benefits and how you can connect with your audience to promote your business or product!
---
Sponsorship Form (PDF)
Exhibitor Form (PDF)
Advertising Form (PDF)
2020 and 2021 GWA Queen - Lindsey Westberry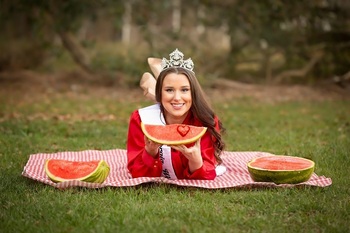 The Georgia Watermelon Association Queen Program is an outstanding opportunity for you to grow, be challenged, travel and excel as an ambassador for the association. The queen program is a part of the overall effort of the Georgia Watermelon Association to increase sales and awareness for the state's watermelon production.
The Queen spends the year traveling to cities across Georgia and the nation, informing consumers in supermarkets, fairs and festivals of the nutritional benefits and economical value of watermelon. The Queen is available for media appearances, in‐store promotions, fairs, festivals or functions where watermelon is featured. You will be expected to participate in 30‐40 promotions throughout the state and nation. Some of these will be scheduled far in advance, some will be short notice.
After reigning and serving at the state level, the GWA Queen will be required to participate in the 2022 National Watermelon Queen Competition, which will take place February 23‐26, 2022 at Marriott Marquis, Times Square in New York City, New York!
The 2021 National Watermelon Association Annual Meeting has been cancelled; therefore, there will NOT be a 2021 Queen Competition at the national or state level. The 2021 GWA Queen competition will not be held on in conjunction with the Georgia Watermelon Annual Meeting.
For more information contact Dawn Cheplick, GWA Promotion Coordinator, dcheplick@asginfo.net or call the GWA office at 706‐845‐8575.
Other Information

Hotel Reservations
Reserve your room today at the King & Prince in St. Simons Island, GA. Special rates for conference room block are $139/night for reservations made prior to December 28, 2020. Reservations can be made online or by calling the reservation desk at 1-800-342-0212. Online room reservation is available by clicking the link below.

Reserve Your Room TODAY
If rooms sell out at the King & Prince, please visit Homes2Suites or call (912) 638-0333.
---
Friday Group Outing Activities
Off-Shore Fishing Expedition - Boarding begins at 12:30 PM
Details will be posted at a later date.

Golf Tournament - Hampton Golf Course - Shotgun start at 12:30 PM - Lunch on your own. The golf course is approximately a 30 minute drive from the King & Prince.

Driving Directions