2022 GWA Annual Convention
January 28 – 30, 2022
King & Prince Resort St. Simons Island, Georgia
---




2022 GWA Annual Conference




Schedule of Events



All events, times, topics are subject to change throughout the year and planning stages of the conference.

Friday, January 28, 2022
10:00 AM
Exhibit Set Up - The Delegal Room
10:00 - 11:00 AM
GWA Board of Directors Meeting - Retreat Room
12:30 PM
Golf - King & Prince Golf Course - Register with GWA Office - Shotgun Start
12:30 PM
Charter Fishing Trip - Details will be announced at a later date.  
7:00 PM
President's Welcome Reception and Dinner - Lanier Ballroom

 
 
Saturday, January 29, 2022

7:00 AM

7:30 - 10:00 AM

Educational Seminar - Lanier Ballroom - Sausage Biscuits, Coffee, Juiced served.

Speakers and Topics to be announced at later date

10:30 - 11:00 AM

Georgia Watermelon Association Annual Business Meeting - Neal Kicklighter, President, Presiding

11:30 AM
Seed Spitting Contest - Beachside Lawn (weather permitting)


12:15 PM

Lunch Buffet - GWA Live Auction - Atlantic Court


6:00 PM
Reverse Ticket Raffle/Drawing - CASH Bar - Delegal
7:00 PM
Banquet/Awards Dinner - Lanier Ballroom


Sunday, January 30, 2022

Safe travels home!
ANNOUNCEMENT
2021 GWA Annual Meeting & Conference
CANCELLED
Thank you for supporting the 2021 GWA Annual Meeting through your registration. Due to the rising COVID-19 cases in Georgia, the GWA Board of Directors have made the decision to cancel the 2021 GWA Annual Meeting and Conference. We hope you understand that keeping our attendees, staff and community safe is very important to us.
If you have submitted payment for registrations, sponsorship, exhibit space or ad placement, please contact Dawn Cheplick at (706) 845-8575 or dcheplick@asginfo.net.

Here are three options to below regarding your refund:
Donate your registration fees to the 2021 GWA Charity - Paul Anderson Youth Home. Annually, the GWA gives funds raised from a load donation to a local charity. The 2021 Annual Charity Load Donation will be given to the Paul Anderson Youth Home, a home providing rehabilitation for troubled young men.
Donate your registration fee to GWA for operation funds. Your registration fee will help support research, promotions and other programs.
Request a refund for your registration, less the cost of your annual GWA membership. (Many registrations include your membership renewal; the association will keep that amount in order to continue your membership and support of the GWA.)
---
As an attendee of this event, all participants acknowledge the contagious nature of COVID-19 and voluntarily assume the risk that they may be exposed to or infected by COVID-19 by attending the Georgia Watermelon Conference and that such exposure or infection may result in personal injury, illness, permanent disability, and death. All attendees voluntarily agree to assume all of the foregoing risks and accept sole responsibility for any injury to myself (including, but not limited to, personal injury, disability, and death), illness, damage, loss, claim, liability, or expense, of any kind, that I may experience or incur in connection with my participation in GWA programming ("Claims"). Conference attendees hereby release, covenant not to sue, discharge, and hold harmless the Association, their employees, agents, and representatives, of and from the Claims, including all liabilities, claims, actions, damages, costs or expenses of any kind arising out of or relating thereto.
Don't miss out on EARLY BIRD rate for all events. Deadline for the discounted early bird rate is January 4, 2021! To receive the discounted member rate, you must join as a new member or renew your membership.
CLICK HERE to Register Online!


Due to CANCELLATION of the GWA Convention, all reserved rooms within the Group Room Block have been cancelled. If you wish to reserve a room, you will need to call the King and Price at 1-800-342-0212 and make a NEW reservation.
Sponsor / Exhibit / Advertise
Sponsorship, advertising and exhibitor opportunities are available for the 2021 GWA Annual Convention.
Sponsorship provides a high value, cost-effective way to feature your organization. Exhibiting and advertising opportunities are also a great way to connect with attendees. Make a personal network with attendees by reserving your booth space today. With program advertising you can promote your brand in the on-site program booklet. Various sizes and placements are available to fit your desired look and price point.
Click on the buttons below to learn more about these benefits and how you can connect with your audience to promote your business or product!
---
Sponsorship Form (PDF)
Exhibitor Form (PDF)
Advertising Form (PDF)
2020-2021 GWA Queen - Lindsey Westberry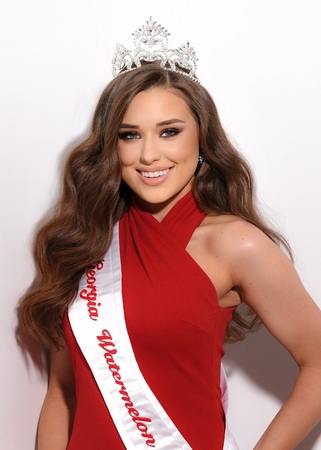 ---
The Georgia Watermelon Association Queen Program is an outstanding opportunity for you to grow, be challenged, travel and excel as an ambassador for the association. The queen program is a part of the overall effort of the Georgia Watermelon Association to increase sales and awareness for the state's watermelon production.
The Queen spends the year traveling to cities across Georgia and the nation, informing consumers in supermarkets, fairs and festivals of the nutritional benefits and economical value of watermelon. The Queen is available for media appearances, in‐store promotions, fairs, festivals or functions where watermelon is featured. You will be expected to participate in 30‐40 promotions throughout the state and nation. Some of these will be scheduled far in advance, some will be short notice.
If you are interested in participating in the 2022 GWA Queen Competition, please visit here for application and more information.
For more information contact Dawn Cheplick, GWA Promotion Coordinator, dcheplick@asginfo.net or call the GWA office at 706‐845‐8 575.
Other Information

Hotel Reservations
Please check back at a later date for room reservation link and other information. If you wish to reserve a room, please call the King and Price at 1-800-342-0212 and make a reservation.


All Friday Group Outing Activities - Details to be announced at a later date.